About RefCite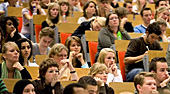 Tilburg University Library welcomes you to RefCite, our self-study tutorial explaining the why and how of working with sources in academic writing. RefCite is primarily aimed at undergraduate students in the social sciences, humanities, economics, and law. The tutorial is designed to help you learn how to incorporate outside sources into your text, how to document them correctly, and how to avoid plagiarism and copyright infringement.
How to use the tutorial
RefCite comprises five sections plus a self-test. The sections are arranged in a logical order and build on one another. We recommend that you read them in sequence. It takes about 40 minutes to go through all the sections and complete the test. But, you can also jump directly to any part of the course by clicking on links in the sidebar.
Topics
'Incorporating sources into your text' looks closely at the different ways you can work information from sources into your paper.
'Referencing your sources' explains what referencing is, why it is important and when it's necessary -- and when it's not.
'How to reference: referencing styles' explains what a referencing style is and provides information about the styles most commonly used at our university.
'Examples by style & source type' provides examples of quotations, paraphrases, and summaries -- formatted in accordance with either APA, Harvard, Chicago NB, or OSCOLA guidelines.
'Using your sources responsibly' is about working with sources in an ethical way. Two important concepts in using sources are discussed: copyright and plagiarism.
Self-test
After you've finished all five sections, you can check your understanding of each section's content by taking the self-test. There is one for each referencing style discussed in RefCite.